At present, everything revolves around providing convenience. With the advent of technology and the face-paced advancements, consumers prefer convenience for everything. From scrolling through the million products to shop or to getting professional assistance with a few clicks, it's all about quick accessibility. With the help of advanced virtual technology, providing assistance has become the easiest thing to do. Now you can get in touch with experts sitting miles away from your place in no time. Just like Google streets view that lets you walk through the streets of places you never thought to be at, now you can get an interactive session with any healthcare physician you want with the help of virtual healthcare. That's how technology turns the impossible into possible.
About Virtual Visits
Now with telehealth or virtual visits you do not have to wait in a long queue to get to your doctor. At any time of the day, you can look for the next available professional who will get your complete analysis and will prescribe you with the right treatment and medication.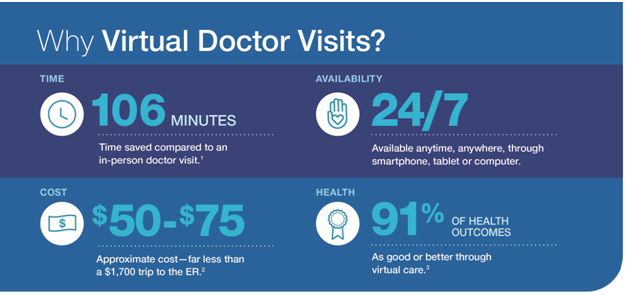 As per the statistics, around 14% of the physicians have already implemented the virtual visits technology for their patients where around 23% of the patients have already had visits with their doctors. Apart from this, around 18% of the physicians are planning to incorporate the virtual visit technology in their coming year plans. The stats above reveal how effective virtual visits can be in terms of saving time and improving the health of the masses.
The Scope And Penetration Of Telehealth
The
global healthcare spending statistics
according to the Medicare and Medicaid Services reveal an increment of 5.5% per year through 2027. It will outpace the domestic gross product nearly by 20%. Moreover, the CMS estimates that the healthcare share, which was 17.9% in 2017, will constitute 19.7% in the year 2027. As per these findings,it's a clear evidence that telehealth and virtual visits are providing to be the best and beneficial alternatives to save the growing cost and fulfill the ever increasing healthcare demand. Check out the analysis below that reveals how effective it is to adopt the virtual healthcare system in terms of cost and time effectiveness.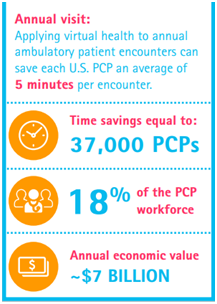 As per the American Telemedicine Association, the quality provided via telehealth is exceptionally better than those given via traditional in-person visits. Many studies support this claim. Not only this, the net saving of employees taking the telehealth visits is around $19-$121 per visit. The good news about the telehealth penetration is that it is entertaining every sector of the audience. Millennials are preferring to limit the treatment cost by taking telehealth visits. Around 67% have their primary care physician whereas around 85% of baby boomers are also looking for a personal healthcare provider.
Common Health Issues To Be Addressed Via Virtual Visits
The American Medical Association (JAMA) published a study indicating that patients who opt for virtual visits can save an hour of time and get the assistance much more quickly with complete dedication. With the help of virtual visits, here are some common health issues that can be addressed.
Diarrhea
Bladder or urinary tract infections
Allergies
Bronchitis
Coughing
Fever
Migraines or headaches
Rash
Seasonal flu
Pink eye
What Is Telemedicine?
Telemedicine comprises of all the many ways you and your healthcare provider get to use technology to communicate with each other and get the problem treated. You do not have to be in the same room. Virtually you get connected to your doctor where he prescribes you with the dosage after diagnosing your health issue. It could be via phone calls, video chats, conference calls, or text messages. Telemedicine is generally termed as e-health, m-health, digital medicine, or telehealth.
How Telemedicine Works
It depends upon what kind of assistance you want. but most commonly two basic ways are used to offer telemedicine as described below:
A Patient Portal
The patients are provided with a password-protected account where they can post their issues and let the doctor analyzed it before getting in touch with him. On that account, the doctor can share the prescriptions and ask you to upload your test reports as well. The account will hold your entire medical summary which you can access at any time.
Virtual Appointment
The next offering is of the virtual appointment. You get to book a virtual appointment with your desired panel of doctors. Time and date will be scheduled and you will get to talk to him or her via video call or voice call. For a certain duration, your doctor will stay connected to you during which you can discuss your issue in detail and get the help you want.
Benefits Of Telehealth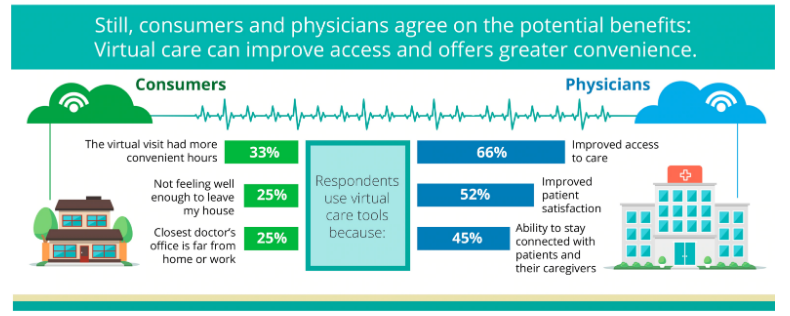 With the technology transformation in healthcare, telemedicine unleashes a greater scope and the highest level of benefits to both the consumers and the physicians. Considering its outcomes, around 66% of physicians have improved access to care whereas around 33% of virtual visits proved to be more time-saving. Moreover, around 45% of physicians have claimed to appreciate the ability to stay in touch with their patients more conveniently via telehealth.
Consumers' Response To Using Telemedicine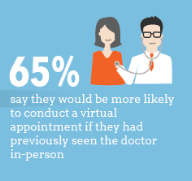 There happen to be a mixed response of consumers and it mainly depends upon the age group. For instance, the old age group does not have that much exposure to technology and so they feel more comfortable with in person interactions. However, around 63.5% of consumers have also started to feel comfortable via telemedicine consultation. Not only this, Around 51.8% find automated scheduling to be more cost-effective which makes telemedicine the best option to opt for. Nearly 65% would prefer going for the virtual appointment as a follow-up visit to their doctor instead of making another in-person visits.
The Cost Effectiveness of Virtual Visits and Telemedicine
Telemedicine has been around for ages but its usage is accelerated with the easy access to technology and the increasing use of smartphones. The virtual consultations are designed to ensure cost-effectiveness for the patients and time efficiency for the physicians. On average, the virtual visit may cost around $79, which is lower than the usual cost of $146 for an office visit. Moreover, to analyze the virtual visit is cost-efficient or not the researchers began to focus on the respiratory illness that includes pneumonia, sinusitis, tonsillitis, and bronchitis. The result revealed that a single virtual visit proved to be more cost-effective than the in-person visit to the doctor. Patients can get more follow-ups and stay satisfied with the attentive assistance provided by their healthcare provider.Furthermore, Dale H. Yamamoto carried out a study that revealed that the consumers spend $50 as compared to the traditional cost of $126 per visit. Marcus Thygeson stated about the use and scope of telemedicine in the following words, "increased convenience can increase utilization, so overall healthcare costs may increase or stay the same. Blue Shield supports the use of telemedicine to improve access for both primary and specialty healthcare, especially in rural communities." It makes it evident how benefiting telemedicine can be for the patients and for achieving a thriving healthcare sector with minimal investments.