Healthy children are happy little people. Childhood is the age when they can learn, explore, play and grow without any worries. It is the best time of a person's life without a doubt. But we often find some of our children unable to enjoy such a carefree childhood due to recurring health issues that hinder their growth and life in whole. Asthma in children is a recurring respiratory condition which is triggered by various factors. Your child's
paediatrician in Dubai
will be able to diagnose the condition if you suspect the condition in your child. Children suffering from the condition are often found quite susceptible to climate changes, strong odours and suffer from allergic reactions. Exposure to these conditions or any allergens causes the child to have an asthma attack, where he or she will have difficulty in breathing. If your child has asthmatic tendencies, it will be usually visible right from early childhood, especially around the age of 5.
The Cause
The exact cause of an asthma attack varies from child to child. Some children react to external factors which trigger an asthma attack. These triggers called stimulus could come from anything from irritant odours and perfumes, cold air, viral infections, even physical exertion and strong emotions. Allergic asthma is caused as a result of allergic reactions towards pollen, animal hair, dust or certain food or medicines.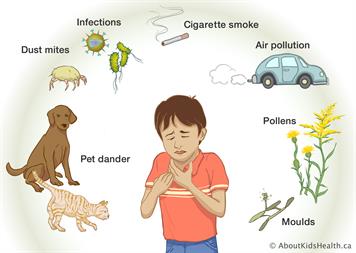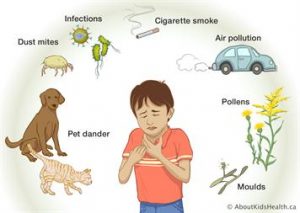 The stimulus causes a bodily reaction, where the airways get inflamed or swollen, causing the tracheal muscles to contract. Research shows that some of the tracheal cells are too susceptible to external stimuli like the allergens and releases chemical substances leading to inflammation. These airways get back to their normal state between these asthma attacks.
Risk Factors
There are a few known risk factors that cause asthma in children. A child with a family history of asthma is highly likely to show the symptoms in their early childhood. For instance, if one of the parents had asthma in their childhood, there is a 25% chance that the condition will develop in the child. On the other hand, if both parents have had asthma attacks at some point in their life, the child is 50% more likely to suffer from the condition. A study of pregnant women showed that mothers who smoked during their pregnancy period give birth to children with higher susceptibility of developing asthma.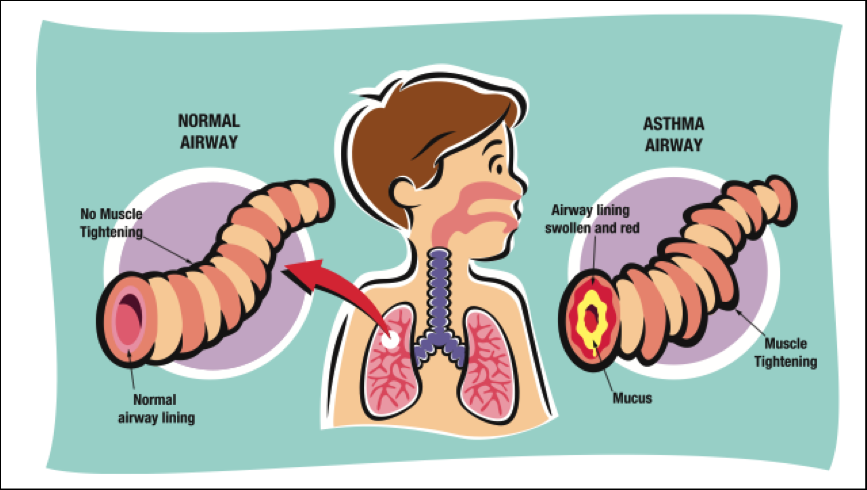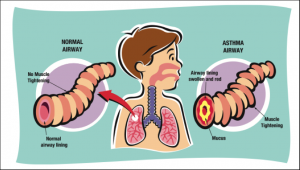 The child's environment also plays a critical part in the development of an asthmatic condition. Children growing up in urban areas are more prone to the condition than the ones in rural regions. This is probably because of the presence of higher levels of allergens like dust or smog in and around the urban settlements. Exposure to such an environment causes children to develop asthma during their growing age.
Common Symptoms
An asthma attack in children has some easily identifiable symptoms. These are-
Difficulty in breathing
Wheezing sound while breathing
Milder asthma with coughs
Gasping for air in an upright position
Profuse sweating
Skin turns pale or blue due to the unavailability of enough oxygen
Diagnosis
A child whose parents had asthma or allergies in their childhood and youth show frequent asthma episodes. In older children, a lung function test can detect asthmatic issues. Most children who had acute asthma in their early childhood will most likely continue to have it even as a teenager. Your child's paediatrician in Dubai can diagnose the condition by making the child or teenager blow into a peak flow meter. The peak flow meter can record how fast a person can blow air, which in turn measure the level of airway disorders.
Treatment
Asthma in children is treated by focusing on stopping the airway inflammation and keeping it open. A combination of corticosteroids and a bronchodilator is often administered to open the airways and make breathing easy. Older children are taught to use a metered inhaler device to administer the medicine whenever required. However, younger children will need the help of a spacer or a mask mounted nebulizer to inhale the drug. Children with severe asthma attacks are also given oral corticosteroids. If you suspect your child of having one or more of the above symptoms, it is best if you consult with a paediatrician in Dubai at the right time.