Are you afraid of your growing belly? Do you feel a constant backache when at work? Does the prolonged sitting and munching on junk food upset your immune system? Well, all of these are some of the common issues employees encounter all around the globe. As per the Australian Bureau of Statistics, the average full-time worker spends around 40.7 hours at work usually mostly sitting on a single seat. Such a prolonged sitting or working makes the body immune to many internal and physical problems. According to the research presented by the
Institute of Employment Studies
the prolonged working hours increase negative effects on the human body that trigger poor performance, decreased productivity, increased health issues, and lower motivation among employees.
Common Health Issues Among Employees
World Health Organization has always emphasized the need to maintain a proper work-life balance along with having a healthy lifestyle especially when at work. There are
ample studies
and statistics that represent how prolonged and stressful office hours can create a series of health issues in the human body. Among the common issues some of the area listed below:
Triggers Anxiety
IPSIS published the result of a survey, which shows that:
Around 28% of employees in the US consider their workplace to be a cause of stress in their life.
Cause of Depression
In 2011 the study carried out to analyze the relationship between depression and productivity revealed that with increased depression, employees show a lack of productivity.
Patient health Questionnaire (PHQ-9) revealed the higher the depression the less would be the productivity.
Workers Shows Signs Of ADHD
The most disturbing stats revealed that workers are prone to experiencing symptoms of ADHD by prolonged working hours.
Researchers presented the stats showing that 3.5% of workers are experiencing signs of ADHD or other mental disorders.
Health Issues
Moreover, the global
healthcare spending statistics
revealed that with an increased stress level and fatigue, workers experience high blood pressure, diabetes, obesity, and serious heart diseases and if the situation becomes worst, they might also get erectile dysfunctional problems.
Ways To Adopt A Healthy Practices At Work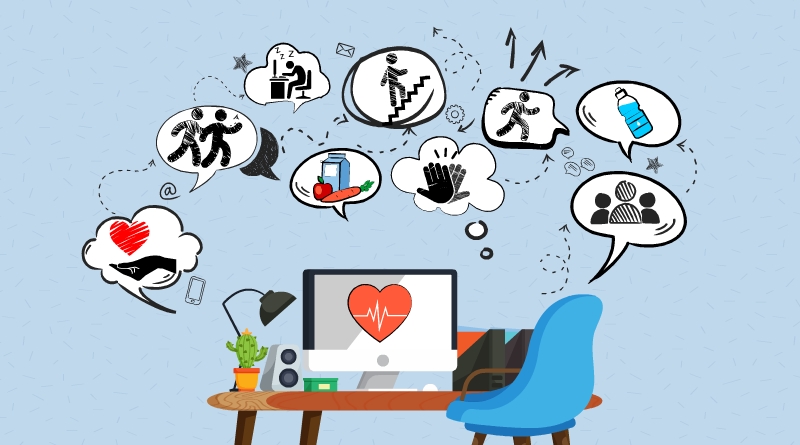 No need to stress out as here are some simple to follow ways to practice healthy measures at work. You do not have to step outside of your comfort zone or do something that you cannot handle in your busy routine. These are simple life hacks so read on and follow:
 
1. Organize Your Workplace
The place where you have to spend the next nine hours of your day should be clean and tidy as that will uplift your mood and make you feel more attentive and energetic to work. With a decluttered workplace, you get in the mood to work much more easily and efficiently. Secondly, you need to make sure that your workplace is properly hygienic. Sanitize your keyword, hardware, and desk properly, clean the dust of your files and keep the chair clean as well.
Wash Your Hands Often
Sanitize Everything
Arrange Your Files
Keep Your Desk Clean
2. Make A Standing Desk
It's vital to be sure to have a proper body posture when at work. You need to have a standing desk that keeps your arm, backbone and neck posture properly aligned at the right angles. The benefits of having a standing desk are ample such as:
Lowers The Risk Of Obesity
Lowers Blood Pressure
Lowers The Risk Of Heart Disease
Reduces Back Pain
3. Get A Goal Setting Buddy
It's always good to partner up with your mate to add more excitement in your health plan. You can ask your friend to join you in adopting new and healthy habits. In this way, both of you will a source of motivation for each other.
4. Park Far Away
You may not get much time to walk or do any exercise so you have to introduce such practices in your day to day routine that automatically makes your body move. Just like a simple habit of parking your car far from your office. In this way, you will get to walk at least for 5 to 10 minutes twice a day daily.
5. Stock Up On Healthy Snacks
Munching is one of the most common habits associated with busy work routine. But what to eat is the most important thing to ponder on. Firstly, you need to keep yourself fully hydrated by keeping a bottle of water or fresh juice on your desk. Secondly, get yourself equipped with a bunch of healthy snacks to munch on just like the one listed below:
Mixed Nuts
Red Bell Pepper
Apple Slices
Peanut Butter Sandwich
Kale Chips
Dark Chocolate
Cucumber
Fruit Salad
6. Pack A Lunch
You don't know how much damage you cause to your body by eating junk food every day. You weaken your immune system and triggers a bulk of serious disease that's why it's best to prepare lunch at home. You can opt for a 7-day meal plan for lunch and prepare everything on your weekend.
7. Take Hourly Break
To feel rejuvenated and stay motivated you need to take frequent breaks. If not, then at least take a 5 minutes break after every hour. In this way, you will not be exhausted and stay active throughout the day.
Listen To Good Music
Take A Small Walk
Chat With A Friend
Wash Your Face
8. Take Your Phone Calls Outside
One of the good habits in the workplace is taking phone calls outside of your workstation. It has two benefits, one that you will not disturb anybody else and secondly you will get to warm up your body by taking a break and stepping outside of the office environment.
9. Use A Pedometer
The best technique to keep your body healthy is by keeping a pedometer. The device will record every time you take a step and at the end of the day, you can take the reading and compare it with the standard steps you should take in a day.
10. Take The Stairs
As mentioned above you must include habits that can help you change your body posture as frequently as you can. With physical movements, you will feel more active and less stressed out. Therefore, avoid taking the elevators and always use the staircase. Your muscles will not get tight and stay flexible.